"The need for faith, a strong sense of sacrificial mission, and the kind of generosity that got us started as a church plant has not changed. We're just in a new season with a different set of particulars....The Kingdom of God still grows the same way it did in the first century and the first year of our existence."
What is "Rooted?"
Beginning in November of 2017, we will embark on a journey of generosity that will enable us to put down roots in the Sans Souci neighborhood where we worship, beginning with the purchase of the former Bethel UMC sanctuary and property. But our vision is for far more than a building. It includes:
A HOME FOR WORSHIP
A COMMUNITY OF DISCIPLESHIP & CARE
A TANGIBLE LOVE FOR SANS SOUCI
ON THIS PAGE BELOW:
- An eBOOKLET with all the details.
- A VIDEO from vestry member, Grady Powell, about what "the common good" means to Village Church in this season.
- A link to the Vision Night Transcript
- Helpful FAQs
- The Commitment Card
Flip through the booklet using the arrows / thumbnails or download the PDF here.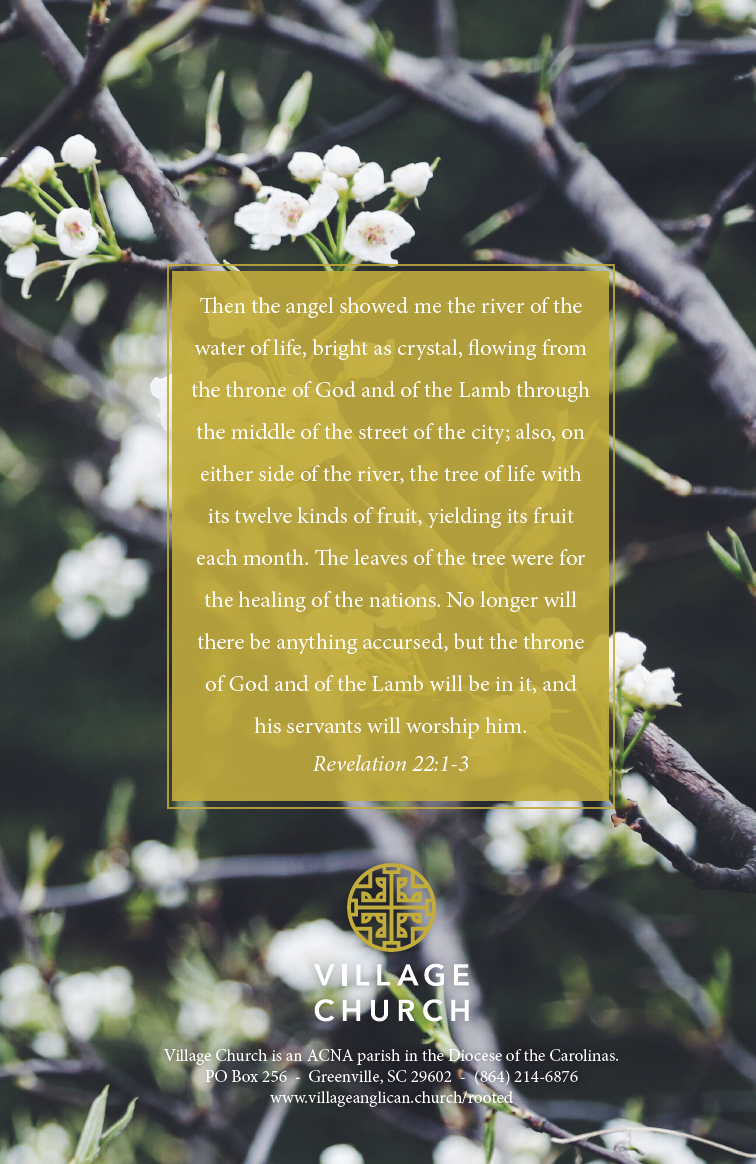 Investing in the Common Good
Couldn't make the Vision Night?
You can read a transcript of most of what was presented here, in about 10 minutes. Refer to the eBooklet above, as well.
FAQs
Why $900,000?
Consulting with professionals who help churches think about these things, we determined that this figure is both challenging and attainable given our current church size and giving. We firmly believe that if 100% of our congregation will trust the Lord and give generously, then this number is well within reach and we will see God do some amazing things in us and through us together.
What will the money go toward?
900k is everything. One fund for everything for 2 years. This amount takes into account all of our operational expenses for 2018 and 2019, which will instantly increase from 2017 to cover utilities, maintenance, insurance, cleaning and more (approx. $36k /annually). This total will be roughly $525,000 over the next two years, if we add nothing else. Subtract this from the 900k and you have $375k remaining.
Beyond our budget, we will make a downpayment on the property ($50,000 of the $210,000 purchase price), replace the tattered windows and doors, upfit children's and educational spaces, furnish the parsonage as a ministry center, furnish a space for nursing mothers & parents, improve our bathroom facilities, and recover several important spaces in our church that have been long-neglected, such as the east narthex. In addition to improvements, we will be paying down the $160K mortgage (a 7 year note). A rough estimate of these expenses is $200k.
As we continue to grow, we will need to do two other things, as well:
1) Expand our ministry and admin staff. (40k+/- annually for PT)
2) Expand the available seating in our sanctuary.
We are also allotting a significant (though not yet determined) amount to invest in community engagement at a high level, including the addition of part-time personnel (+/- $40k). See the video above from Grady Powell for more information on this. Note: Within our current operations budget, we are already investing significantly in both the ministry of Village Church, but also benevolence and other ministries and efforts in our city and beyond, including Village Wrench, Soteria CDC, Discipleship Beyond (Turkey) and more.
When and how do we give?
The initiative begins Dec. 1, 2017. Year-end giving is included in our goal. But during the 3 weeks between November 2nd and November 19, we are asking you to pray about and discuss the depth of generosity to which God is calling you for the next 2 years. As a congregation, we will bring our 2-year commitment cards to the altar on November 19, asking God to bless us, sustaining and increasing our capacity for generosity. This is not a "big offering" moment. Generally speaking, your giving will continue throughout the next two years. Check out the eBooklet and the Commitment card for lots more info.
Commitment cards are available on the offering table or you can download it here to print out.